ERG Receives EPA Award for Outstanding Accomplishments by a Large Prime Contractor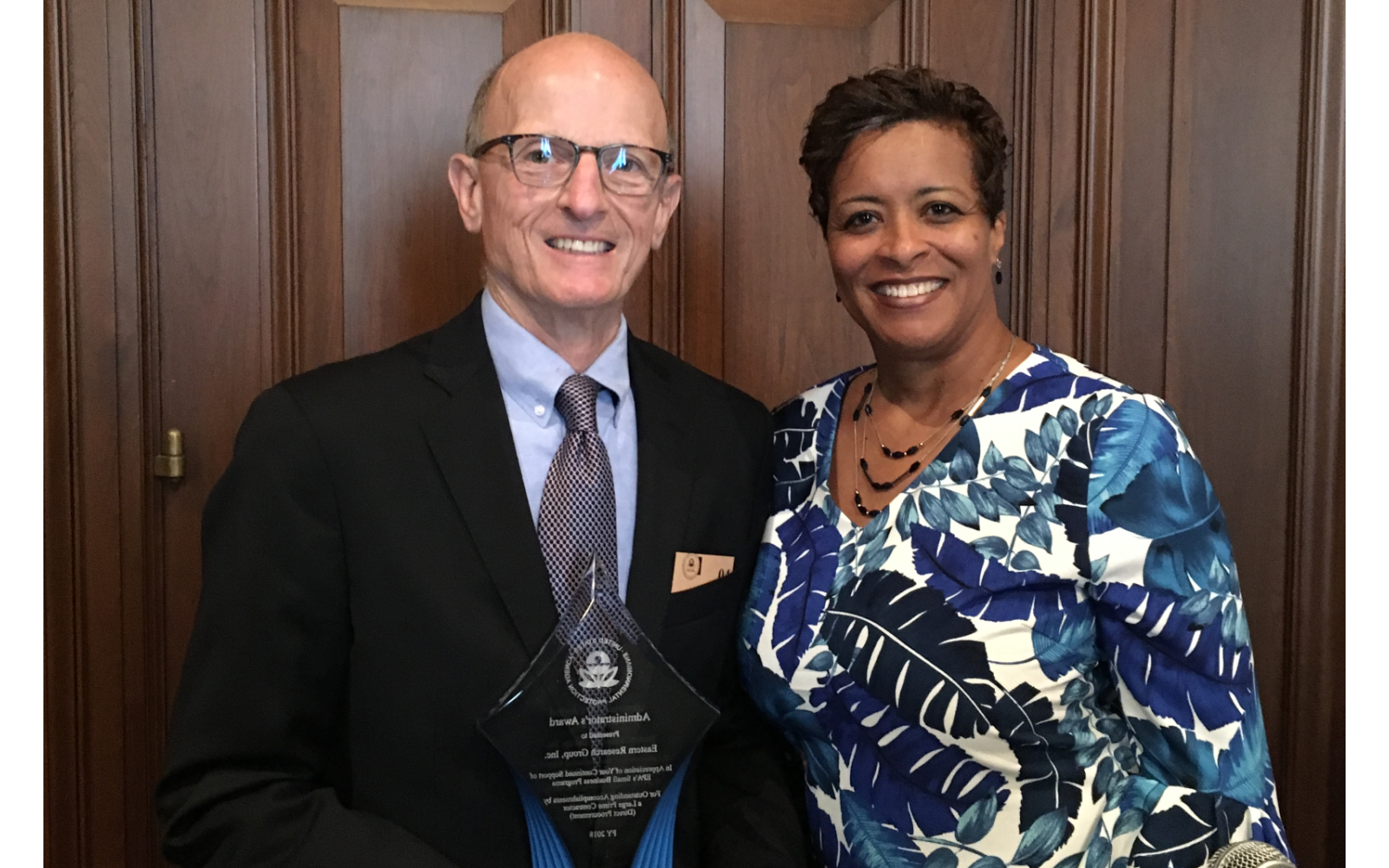 EPA has honored ERG with the EPA Administrator's Award for Outstanding Accomplishments by a Large Prime Contractor for fiscal year 2018. The Agency's Office of Small Disadvantaged Business Utilization (OSDBU) nominated ERG for the award, and a panel of EPA staff from across the Agency evaluated our performance in the following areas: support of EPA's mission, success in meeting subcontracting goals, and support for OSDBU and related outreach efforts to small businesses. ERG founder and CEO David Meyers accepted the award today in Washington, D.C., and is pictured above with Joan B. Rogers, Deputy Director of EPA OSDBU.
ERG is deeply committed to EPA's mission and has served all of its major offices through more than 200 prime contracts. We currently manage 27 EPA prime contracts, with a combined value of more than $682 million. With respect to our small business utilization goals, ERG achieved a total small business utilization of more than 80 percent for seven contracts during the last reporting period (fall 2018). For example, under one Office of Water contract, nearly 90 percent of subcontracting dollars went to small businesses; more than 20 percent went to small, disadvantaged businesses; and more than 17 percent went to service-disabled, veteran-owned small businesses. ERG's experience as a small business itself for many years (and EPA's Small Business Contractor of the Year in 1989) has afforded us the opportunity to understand how to effectively and efficiently work with small business teaming partners and to appreciate the value they can bring to EPA contracts.
For more information about the award, visit the EPA Blog.